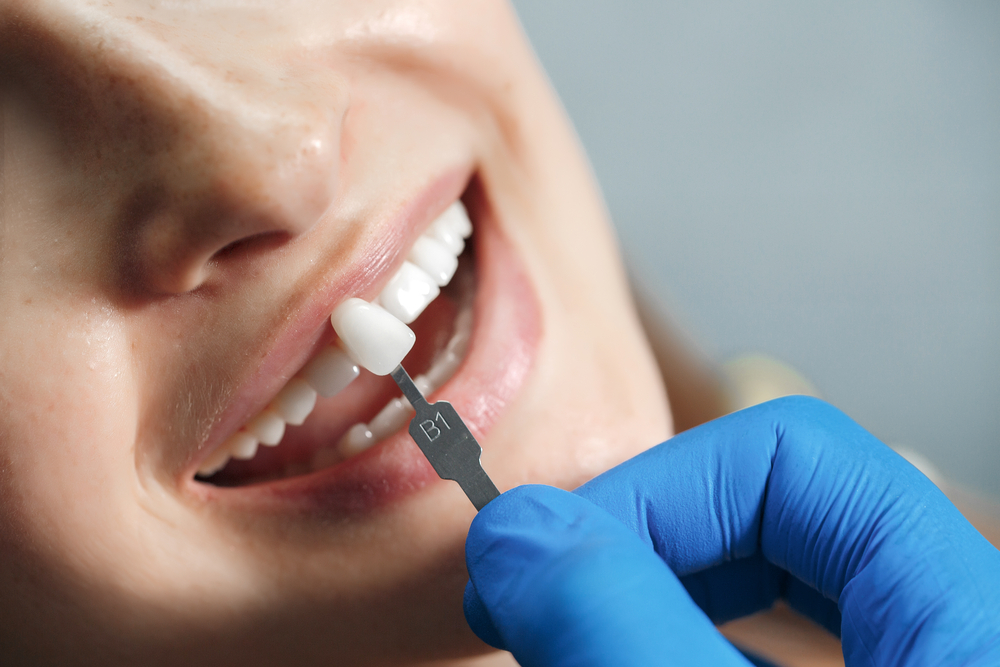 All About Veneers in Riverside, CA
At Riverside Cosmetic Dentist – Dr. Ali Shmara, we provide veneers that are slender, personalized shell moldings meticulously affixed to the frontal surface of teeth. Engineered primarily for aesthetic enhancements, our veneers give you a natural-looking healthy smile. Your smile is one of the first things people notice about you and your appearance, so it's important to keep your smile looking polished and healthy.
Who Benefits from Veneers in Riverside?
Veneers in Riverside serve as an exceptional solution for elevating your smile. For individuals with teeth that are discolored, irregularly shaped, or broken, porcelain veneers are a great option. If you have a missing tooth, or a noticeable large tooth gap, veneers might be a good match for you.
Riverside Cosmetic Dentist - Dr. Ali Shmara Veneers Procedure
During your initial veneer consultation in our Riverside location, our team will assess your teeth and discuss any concerns you might have about your dental health. If you commit to the porcelain veneers procedure, we will craft a personalized dental treatment for you. We will prepare your teeth for veneers by gently removing a superficial but minimal enamel layer from each tooth. Afterward, we will create an impression of your teeth, that we dispatch to a dental laboratory for the customized production of your Riverside veneers. Lastly, we will securely bond the porcelain veneers to your teeth and perform any essential adjustments to ensure that you feel comfortable and confident with your new smile.
4 Reasons Riverside Veneers Might Be Necessary
Your teeth are staining or are severely discolored.
Your teeth are chipped or fractured.
You observe irregularities or gaps amidst your teeth.
Your teeth are worn down.
Dental Issues Fixable by Porcelain Veneers in Riverside
Dental veneers are made from ultra-thin porcelain coverings that are applied to the front teeth to enhance their wellness and aesthetics. Dr. Ali Shmara may recommend dental veneers to address a variety of tooth imperfections, including:
Teeth with noticeable gaps.
Smiles with excessive gum exposure.
Slightly misaligned teeth.
Teeth severely marred by discoloration.
Teeth that are chipped or cracked.
Teeth exhibiting irregular shapes or sizes.
What to Expect from the Dental Veneer Procedure in Riverside
Our dental team, under the leadership of Dr. Ali Shmara, has extensive training and expertise in cosmetic dentistry, particularly in veneer installation. However, what sets our veneers apart is that we tailor the veneers to address your dental concerns.
Before the veneer fabrication process, we create a thorough plan for your smile transformation. We dedicate time in understanding you as an individual, addressing how your dental concerns impact your day to day activities, and determining the next steps to achieve the smile of your dreams. Collaboratively, we help you select veneers that align with your smile and personality. We even provide a preview of your treatment's expected outcome to get your feedback before initiating the actual procedure.
What are dental veneers?
Dental veneers are thin shells that are bonded to the front surfaces of your teeth. They are made from porcelain or composite resin and are used to correct a variety of aesthetic concerns, including cracked or chipped teeth, gaps between teeth, misshapen teeth, and stained or discolored teeth. Veneers are an excellent option for people who want to improve their smile without undergoing extensive dental work.
What are the benefits of dental veneers?
There are many benefits that come with getting dental veneers. First, they are durable and long-lasting. With proper care, your veneers can last for 10 to 15 years. Second, they resist staining and discoloration. This is due to the fact that the porcelain or composite resin used to make veneers is not as porous as natural tooth enamel. As a result, your veneers will stay white and bright for years to come. Third, they require minimal preparation. In most cases, only a small amount of enamel needs to be removed in order to place the veneer. And fourth, they provide an immediate transformation.
Unlike other cosmetic treatments like braces which can take months or even years to achieve results, with veneers you'll see a difference as soon as they're placed.
If you're looking for a quick and easy way to improve your smile, dental veneers may be right for you. Veneers are thin shells that are bonded to the front surfaces of your teeth and can be used to correct a variety of aesthetic concerns.
They are durable and long-lasting, resist staining and discoloration, require minimal preparation, and provide an immediate transformation.
At Riverside Cosmetic Dentist, we are committed to providing quality dental care at an affordable price. Contact us today for more information about our services and pricing. We look forward to helping you achieve your perfect smile!